The one week course which started on 6th June and ended on 10th June was organized for the first time, targeting all chairpersons and secretariats of the National Trade Facilitation Committees from different member states. Because of the limited number of participants that was required, only twenty nine member countries attended, all of which are leased developed and still developing.
The officials came from Albania, Botswana, Brazil, Costa Rica, Fiji, Ghana, Guyana, Jamaica, Lao PDR, Netherlands, Nigeria, Pakistan, Papua New Guinea, Paraguay, St. Vincent and the Grenadines, Sweden, Tajikistan, Uganda, Vanuatu, and Viet Nam. Most of these members already have national trade facilitation committees in place or are in the process of setting it up.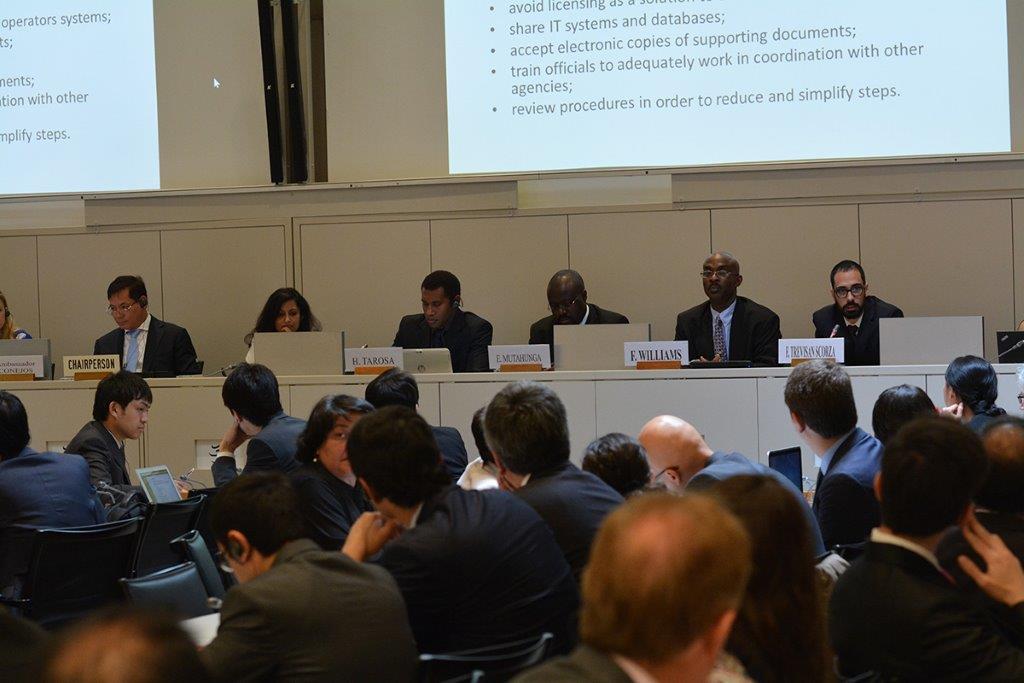 A common theme which emerged from the interventions was the importance of private sector involvement in the establishment and work of the national committees, particularly representatives from small and medium-sized enterprises, as business is directly affected by the customs bottlenecks and red tape which the TFA seeks to address.  Several speakers said the participation of the private sector was often the most critical factor in determining the success or failure of national committees. 
Another common theme was the need for coordination between government ministries and agencies with a role in TFA implementation.  Speakers cited the importance of sustained engagement by all public bodies involved with implementation efforts, sufficient coordination among agencies, and the need for consistent support at the highest levels of government to ensure that the committee continues to function effectively. In responding to these topics, Vanuatu representative shared Vanuatu's experience with regards to the establishment of its national trade facilitation committee together with its challenges and way forwards. Vanuatu made it clear that under its overarching trade policy framework; trade facilitation is a low priority as more emphasis was on the service sector, particularly tourism which contributes around 40% of Vanuatu's Gross Domestic Products (GDP). It was clear to members that although Vanuatu's manufacturing sector contributes only around 7% of its GDP, there have been an increased government attention to support Agriculture sector through Agri-Business and Agri-Tourism policies that would enable goods sector to support and feed into tourism sector. 
Furthermore, it was brought to the attention of members that after the adoption of the WTO Trade Facilitation Agreement (TFA) in Bali, Indonesia in 2013, trade facilitation has now became a priority, however, there is still work to update Vanuatu's national trade policy framework to reflect current reality. In his remarks during the workshop, Ambassador Esteban Conejos of the Philippines, the Chairman of the WTO's Preparatory Committee on Trade Facilitation (PCTF), told participants that the experiences of Members so far shows that "having clear and measurable tasks, achieving early results to show that the committee can deliver, as well as securing consistent engagement and high political support emerged as important conditions for a committee to well perform its role," he said.  "An inclusive approach to committee composition, allowing all stakeholders - including different stake holders in the private sector - to take part, appears to be an important success factor as well."
The course was organized jointly by World Trade Organization (WTO) and its partner organizations such as UNCTAD, UNECE, World Bank International Trade Centre (ITC) and World Customs Organization (WCO). The course ended with action plans being developed by each participant. For Vanuatu, the action plan covers immediate steps to finalize the establishment of its TFC, its functions, its work programs and the level of support it will require. It is anticipated that once this committee is established, the ratification and notification process will begin, and extending on to develop national road maps on how measures in the TFA can be implemented fully. The course was attended by Mr. Harold Tarosa, Acting Deputy Director of Customs Division within the Department.