The same applies to exported goods, where goods may only be exported provided that a Customs Release Order, authorizing the export of the goods, is presented to the Cargo Handlers.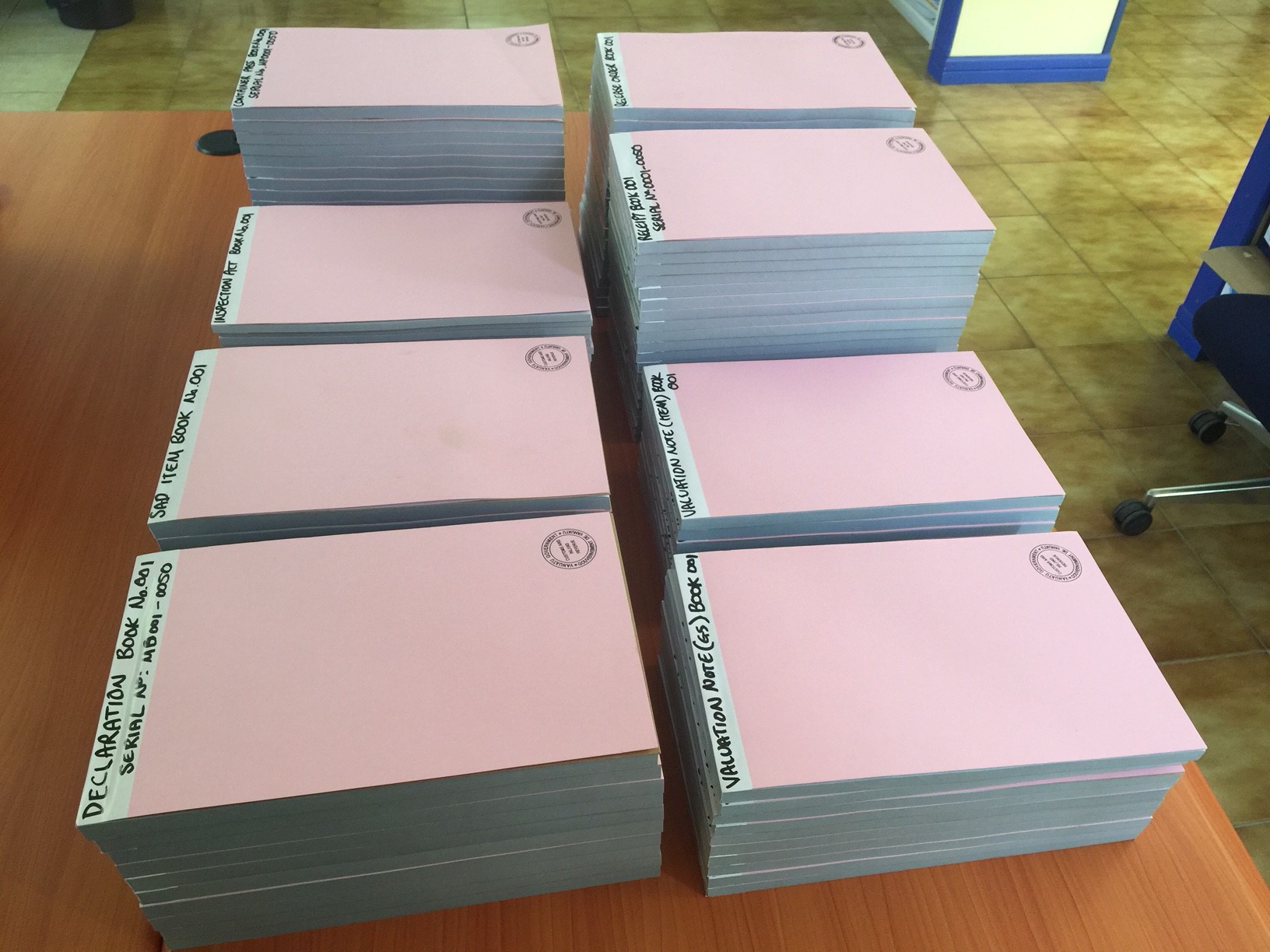 Manual Customs clearance forms – ready for dispatch when disaster strikes
With the use of the ASYCUDA system to control and account for the clearance of goods from Customs, the above documents can only be printed electronically from the system, provided that a Customs declaration has been lodged electronically and, for some consignments, duties and taxes paid to Customs.
This control works fine, however it begs the question of what happens when the ASYCUDA system is inaccessible due to either a system failure, a power cut or a disruption to internet connections? These interruption can be a result of natural disasters, whatever they maybe, or manmade events such roadworks, fires, accidents or system technical failures, to name a few.
Ongoing efforts and investments has been put in place by Customs and the Office of the Government Chief Information Officer (OGCIO), to minimise the risks of any technical failures, as well as having redundancies in place to minimise and avoid system downtimes. Despite these efforts, we can never be so prepared to ensure there is always business continuity to the clearance of goods through Customs, whenever systems are offline due to unforeseen circumstance that may be beyond the control of Customs and the OGCIO.
Thanks to the current ASYCUDA World Project (AWP), there is now, for the first time ever in the history of Vanuatu Customs, a Business Continuity Plan to allow for the clearance of goods from Customs whenever the ASYCUDA system is inaccessible by its users, both internally and externally. The Plan was created from scratch by the AWP Team and is available for use on the ASYCUDA World PortalàDocumentationsàBusiness Continuity Plan.
As part of this initiative, Customs has made an investment of over 300,000vt to print manual Customs clearance forms which will be made available to the ASYCUDA users, both in Vila and Luganville, whenever the authorisation is given to switch the clearance process to manual, due to system unavailability.
To ensure the users are aware of the Business Continuity Plan and are familiar with the manual forms, Customs held information sessions in Vila and Luganville in September of 2018, to brief its Officers and Brokers of what to do when disaster strikes.